RD Marker Ball Locators
Radiodetection RD8000M and RD7000M+ Precision Marker Locators deliver fast, accurate marker locating as well as the ability to locate cables and pipes.  Both locators offer optional GPS logging.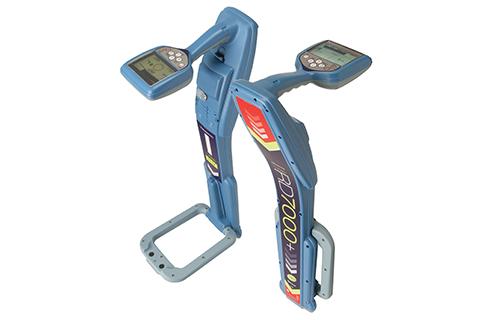 Radiodetection's range of precision locators builds on the high-performance and ergonomics of the RD7000®+ and RD8000® platforms, and is aimed at locate professionals and utility companies who need to detect utility RF (Radio Frequency) markers (also known as EMS or Omni-marker™) alongside buried infrastructure.

Measure depth continually and automatically

Featuring TruDepth™, Radiodetection's unique automatic depth measurement system, and a combined utility and marker locating mode, the marker locator range delivers faster and more accurate surveys.
Optional internal and external GPS links

The built-in GPS option, allows customers to conveniently add positional data to their survey measurements without the need to carry additional equipment. Alternatively all units feature Bluetooth® to allow automatic linkage with an external GPS device. RD8000 models offer easy retrieval of saved measurements via USB and export into common file formats such as KML for Google Earth.

Data Logging

Monitoring usage, improving best practice and providing proof of work done is enabled by the automatic data logging on selected models. Every second, key locator parameters are saved into the unit's non removable internal memory.

Up to one year of saved data can be retrieved and analyzed by connecting via USB to a PC running RD Manager, the software companion to the marker locator range. On GPS models there is the added benefit of recording survey locations.
Familiar user interface
Adopting the Radiodetection range is straightforward as it utilizes the same screens and operations as the established RD7000+ and RD8000 ranges, and can be used with any of their accessories or transmitters*
* some RD8000PTLM frequencies requires the use of a Tx10B transmitter